Waste Management that Makes Sense!
April 26, 2018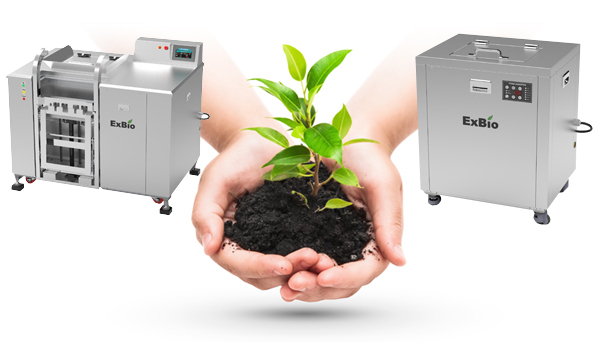 Food waste is a major issue around the world. Approximately 40% of food, which equates to $165 billion, in the United States alone is wasted. Food waste in America has grown by 204% since 1960 and 50% since 1990. According to the National Resources Defense Council (NRDC) food represents the single largest component, by weight, of solid waste reaching landfills. Therefore, proper equipment is needed to be able to decompose food waste.
ExBio is a leading company in food waste disposers that can turn your food waste into water! The products are easy-to-use, eco-friendly solutions that use Bio StarTM technology to completely decompose the food. Bio StarTM is an agent developed by ExBio that combines with microorganisms to turn food waste into water and carbon dioxide, both of which can go down the drain and into sewers. This is an environmentally-friendly way to ferment and remove food waste.
ExBio has developed solutions for decomposition and elimination of food waste. These solutions can handle small to large kitchen-based output. And the best part, no solid waste output for you to manage!
With safe and reliable, eco-friendly products, this company observes the food waste reduction policy and satisfy the customer's needs with new technologies. These disposers can be conveniently installed at a low cost anywhere. ExBio is continuously performing R&D to continue enhancing their company and products to ensure their technology and service are ever changing like the environment.
We look forward to bringing these food waste solutions to your kitchen operations.
Contact Preferred Marketing Group today to learn more about ExBio's unique technology and eco-friendly solutions.