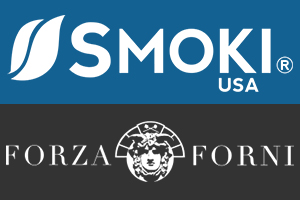 WELCOME SMOKI USA & FORZA FORNI
December 1, 2020
We have great news! Our Preferred brand family has been recently joined by two amazing brands, and we couldn't be more excited.
Smoki USA helps reduce your solid-fuel equipment emissions, grease build-up, and unwanted cooking smells. Improve your kitchen's air quality, reduce the cooking odors, and make sure your ducts are clean from excess grease buildup. Please check out Their Website to learn more.
Forza Forni is the best partner for any pizzeria! With classic ovens like Acunto and Pavesi you can now bring up the quality of your pizza and help it achieve that perfect italian pizza flavor. Forza Forni also features electric pizza ovens and a mini portable Bambino pizza ovens – for the smallest kitchens that still dream big. On top of that they also want to make sure you have great dough management tools, such as Dough mixers, rollers, rounders, & dividers to make sure they can carry your pizza from start to finish. Check out the full product variety on Their Website!
Have a great day,
Preferred Team.