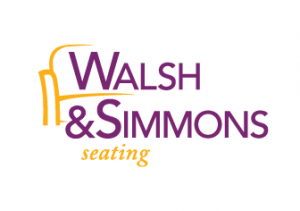 Walsh & Simmons Seating
April 11, 2017
We are pleased to announce our representation of Walsh & Simmons Seating. Walsh & Simmons Seating was founded in 1976 as an affordable alternative in the commercial restaurant furniture and bar furniture manufacturing business.
The product line has grown beyond upholstered and wood trim booths to include metal booths, metal and wood chairs and bar stools, restaurant tables, and, most recently, custom millwork. The company has built their reputation over 40 years on industry-leading quality and service.
We are excited to share with you some of the key product categories that make Walsh and Simmons one of the best manufacturers for seating and milwork solutions for your business operations. Not only are you getting outstanding quality products, you are getting furniture that is all made in the USA.
Booths
Give your customer the comfort they deserve by helping them enjoy every minute whether it's waiting for a table or having a meal. With Walsh & Simmons booths you are getting a high-quality booth inside and out.
They have customized their booth frames to prevent back rocking and much more. These booths have less bounce when getting in and out because of how the seat springs are installed. The Teflon spring clips eliminate any squeaking which sets them apart from the industry standard.
Available in a variety of styles like upholstery, wood trim booths, sofa-style and metal booths with a large selection of colors. You also have the option to customize your booth to your desired look.
Chairs & Bar Stools
A wide selection of wood and metal chairs to choose from all made with the highest quality. Metal chairs can be customized to your choice to include powder coats, textures, smooth, and metallic finishes. Chairs and Stools come with a 5-year limited warranty!
Tables
Table edges will help give you that finished look. Available in a variety of styles and finishes including T-Mold and PVC options.
Millwork
This recently added line of products includes beverage and condiment counters, divider walls, and trash receptacles. We can make your vision a reality by helping you customize fabric, paint color, or create it all from scratch. Available in different sizes and styles.
Click here to learn more about Walsh and Simmons Millwork.
http://walshsimmons.com/index.php/millwork.html
For more information on how to get these high quality products for your business, contact your Preferred Marketing Group Rep today!