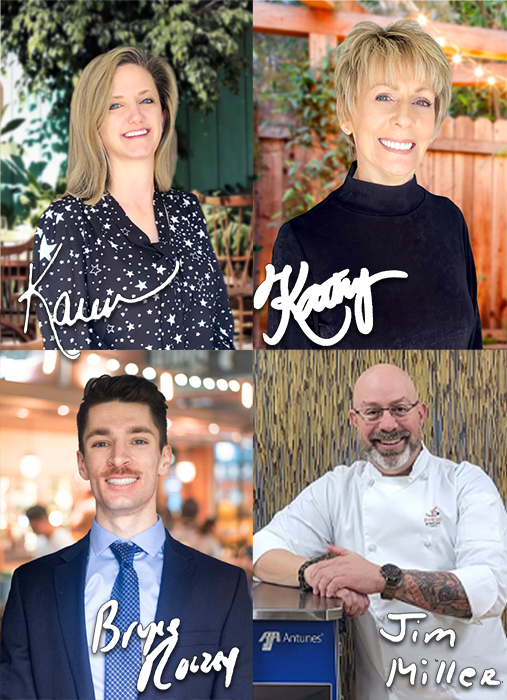 Welcome to the Preferred Team!
March 3, 2023
𝑳𝒆𝒕'𝒔 𝒘𝒆𝒍𝒄𝒐𝒎𝒆 𝑲𝒂𝒓𝒆𝒏 𝑻𝒉𝒖𝒓𝒎𝒂𝒏, 𝒐𝒖𝒓 𝒏𝒆𝒘 𝑺𝒚𝒔𝒕𝒆𝒎𝒔 𝑪𝒐𝒐𝒓𝒅𝒊𝒏𝒂𝒕𝒐𝒓!
Karen has spent the last ten years working in the Nursing Home industry and is ready to take her knowledge and experience into foodservice. She loves kitchen equipment and gadgets, finds a lot of joy in food, and is super excited to learn more about commercial kitchens.
When Karen was young, she dreamt about being a mom of her own soccer team, and although she did not raise 12 World Cup winners, you can now catch her reading, cross-stitching, and fawning over her new grandbaby.
On a 𝒑𝒆𝒓𝒇𝒆𝒄𝒕 cool but sunny day you can find Karen out for a jog, or walking with her dogs, Woody and Stinky Pete. We're pretty sure that Toby, her African Grey Parrot, keeps her hands (shoulders and back) busy all other times of the year.
One of Karen's greatest joys in life is witnessing her family and friends enjoy new experiences and success, because as Dolly Parton put it: "If you see someone without a smile, give them one of yours."
𝐒𝐚𝐲 𝐇𝐄𝐋𝐋𝐎 𝐭𝐨 𝐊𝐚𝐭𝐡𝐲 𝐓𝐡𝐮𝐫𝐦𝐚𝐧, 𝐨𝐮𝐫 𝐧𝐞𝐰 𝐚𝐝𝐝𝐢𝐭𝐢𝐨𝐧 𝐭𝐨 𝐭𝐡𝐞 𝐈𝐧𝐬𝐢𝐝𝐞 𝐒𝐚𝐥𝐞𝐬 𝐭𝐞𝐚𝐦.
Kathy has spent over 40 years in healthcare management and is excited to carry that customer care experience to Preferred Marketing Group. Outside of her love for the foodservice industry, she also believes in what we do as a team, our direction, and our core values! 💯✨
Although Kathy loves calm activities, like sewing, gardening, and avoiding listening to death metal, she's sure got a wild side! 🤪🎢 You can even find her muddin' if you catch her when she's in Texas 🤠
When it's her time to relax, she loves to be surrounded by her two maltipoos – Ziggy and Dolly, who are "two of the best 6lb snuggle buds ever." Look out for their cute fuzzy faces on our next installment of Preferred Pets 🐶❤️
One of the best things about Kathy is that she approaches everything she does with great passion because "Your true worth is determined by how much more you give in value than what you take in payment."
𝐋𝐞𝐭'𝐬 𝐰𝐞𝐥𝐜𝐨𝐦𝐞 
Bryce Roczey
, 𝐨𝐮𝐫 𝐧𝐞𝐰 𝐁𝐮𝐬𝐢𝐧𝐞𝐬𝐬 𝐃𝐞𝐯𝐞𝐥𝐨𝐩𝐦𝐞𝐧𝐭 𝐑𝐞𝐩 𝐢𝐧 𝐭𝐡𝐞 𝐎𝐫𝐚𝐧𝐠𝐞 𝐂𝐨𝐮𝐧𝐭𝐲 𝐚𝐫𝐞𝐚!
Bryce has been in the foodservice industry for a couple of years, working in various restaurants and bars, and fully admits he's known he would end up in this line of work since he was in diapers. 🧑‍🍳 🤍👶
One of his favorite things about the restaurant business is the constant technological advancements that equipment companies are introducing to make running a kitchen faster and more efficient. He is especially fascinated by robotics making it into foodsevice, and is happy to be at the forefront of this enormous change. Quite a long journey from his childhood dream of giving out free samples at Costco (and eating most of them in the process.) 🧀🍤🍗
Bryce's hobbies hugely depend on the day, time, and season we are currently in, but he is a very busy guy! Whether he is at the basketball court, snowboarding, mountain biking, or painting – he's having a blast wherever he goes, especially if he is surrounded by his pups, Lucy and Bugsy. 🐕 🚵‍♂️🐩
𝘉𝘳𝘺𝘤𝘦'𝘴 𝘪𝘥𝘦𝘢𝘭 𝘥𝘢𝘵𝘦 𝘪𝘴 𝘈𝘱𝘳𝘪𝘭 25𝘵𝘩, 𝘣𝘦𝘤𝘢𝘶𝘴𝘦 𝘪𝘵'𝘴 𝘯𝘰𝘵 𝘵𝘰𝘰 𝘩𝘰𝘵, 𝘯𝘰𝘵 𝘵𝘰𝘰 𝘤𝘰𝘭𝘥, 𝘢𝘭𝘭 𝘺𝘰𝘶 𝘯𝘦𝘦𝘥 𝘪𝘴 𝘴𝘰𝘮𝘦 𝘴𝘶𝘴𝘩𝘪 𝘢𝘯𝘥 𝘧𝘢𝘴𝘩𝘪𝘰𝘯𝘢𝘣𝘭𝘦 𝘴𝘩𝘰𝘦𝘴. 💁🏻‍♂️ 👞 ✨
To quote William Shakespeare, "𝐒𝐭𝐫𝐨𝐧𝐠 𝐑𝐞𝐚𝐬𝐨𝐧𝐬 𝐦𝐚𝐤𝐞 𝐬𝐭𝐫𝐨𝐧𝐠 𝐚𝐜𝐭𝐢𝐨𝐧𝐬."
𝐒𝐚𝐲 𝐇𝐄𝐋𝐋𝐎 𝐭𝐨 𝐉𝐢𝐦 𝐌𝐢𝐥𝐥𝐞𝐫, 𝐨𝐮𝐫 𝐧𝐞𝐰 𝐁𝐮𝐬𝐢𝐧𝐞𝐬𝐬 𝐃𝐞𝐯𝐞𝐥𝐨𝐩𝐦𝐞𝐧𝐭 𝐫𝐞𝐩𝐫𝐞𝐬𝐞𝐧𝐭𝐚𝐭𝐢𝐯𝐞 𝐢𝐧 𝐋𝐚𝐬 𝐕𝐞𝐠𝐚𝐬, 𝐍𝐞𝐯𝐚𝐝𝐚! Jim has been in the industry for nearly 30 years, working mainly in restaurant kitchens, until one day, he realized he had done everything there was to do in his field. So he hung up his apron and joined the dark side of the foodservice industry – Equipment and Culinary solutions. 💀🎉🎈
When Jim was a youngling, he wanted to be a police officer, but as he got older and joined the Army, his dreams changed, he went to college for culinary arts and set himself on this arguably more fun path.
On a clear and hopeful spring afternoon you can catch Jim outside with his dog Nugget walking around or playing disk golf on top of some hill he hiked up to, presumably. 🐶🚶‍♂️
Although reading might not be Jim's favorite activity, everything changes if it's a comic book. Walking Dead, anything sci-fi, or Superman-related will definitely tickle his fancy! Catch him at Comicon for a bonus handshake.
"𝘌𝘯𝘫𝘰𝘺 𝘵𝘩𝘦 𝘭𝘪𝘵𝘵𝘭𝘦 𝘵𝘩𝘪𝘯𝘨𝘴 𝘢𝘯𝘥 𝘥𝘰𝘯'𝘵 𝘴𝘸𝘦𝘢𝘵 𝘵𝘩𝘦 𝘴𝘮𝘢𝘭𝘭 𝘴𝘵𝘶𝘧𝘧" is Jim's motto, and it sounds like he'll be a great addition to the team! 𝐒𝐚𝐲 𝐚 𝐰𝐚𝐫𝐦 𝐰𝐞𝐥𝐜𝐨𝐦𝐞 𝐚𝐧𝐝 𝐡𝐞𝐥𝐩 𝐮𝐬 𝐢𝐧𝐭𝐫𝐨𝐝𝐮𝐜𝐞 𝐉𝐢𝐦 𝐭𝐨 𝐡𝐢𝐬 𝐧𝐞𝐰 𝐟𝐨𝐨𝐝𝐬𝐞𝐫𝐯𝐢𝐜𝐞 𝐟𝐚𝐦𝐢𝐥𝐲 𝐚𝐭 𝐣𝐦𝐢𝐥𝐥𝐞𝐫@𝐩𝐦𝐠𝐧𝐨𝐰.𝐜𝐨𝐦👨‍🍳🥞🍜🍕👩‍🍳