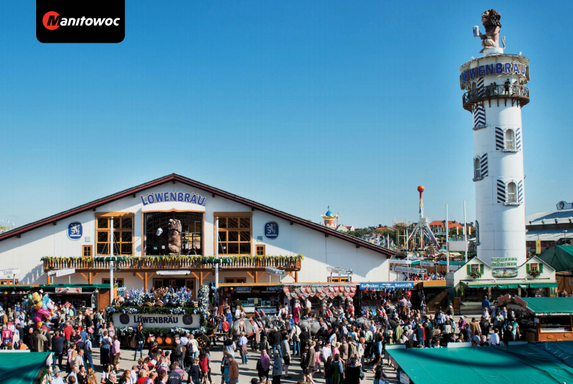 What Cooking Equipment Do They Use to Serve 9,000+ Guests at Oktoberfest?
September 16, 2016
Every September and early October, all eyes turn to Munich, Germany for its world famous Oktoberfest. Known as the largest folk fair and beer festival in existence, some 7-million revelers descend on the Bavarian city…
They celebrated what was originally a wedding party for Crown Prince Ludwig and Princess Therese.
They enjoy the beer. They enjoy the carnival rides. And they enjoy the food.
"We prepare all foods fresh here on the fairground," explains Martin Wacker, the head chef of the Löwenbräu Fest Tent at Oktoberfest. "Every appliance in my kitchen must be multifunctional. That's why I decided on the combi steamers from Convotherm. Using over-night cooking with core temperature measurement and the Crisp & Tasty function, we prepare our specialties such as suckling pig or sauerbraten gently with no weight loss and achieve top quality. To be perfectly honest, without the ingenious functions of the Convotherm combi steamers, we would never be able to offer this outstanding quality here at the fairgrounds."
With its tall Löwenbräu tower hoisting a roaring lion, the Löwenbräu tent is one of the most visible on all of the Oktoberfest grounds. It seats 8,500 guests at any given time, with more than 9,000 running through in the course of the day. This poses enormous logistical challenges for both the kitchen staff and serving teams.
The tent's industrial kitchen is equipped with three Convotherm +3 20.10 and two Convotherm +3 20.20 ovens that are in operation around the clock to ensure Wacker and his team can provide guests with the best culinary enjoyment possible.
But it's not just the Löwenbräu tent at Oktoberfest that relies on Convotherm ovens. Across town, the world famous Hofbräuhaus also uses Convotherm ovens in a unique combination of tradition and cutting-edge technology. At the same time, another unique combination of locals and tourists streams into the most famous beer hall in the world to enjoy the beer, some gemütlichkeit (or cozy fun), and some good food. See how this food is made.
Take a look inside the Hofbräuhaus kitchen.
Watch this short video to get a sneak peek inside the kitchen at Munich's original Hofbräuhaus. In order to accommodate such a diverse menu for such a large number of guests, Convotherm 4 combi steamers were used. See why in this short video, and enjoy a quick visit to the Hofbräuhaus!